The dinar was introduced in 1965 to replace the Gulf rupee. It was initially equivalent to one pound sterling. As the rupee was fixed at 1 shilling 6 pence, this resulted in a conversion rate of 13⅓ rupees to the dinar.
When Iraq invaded Kuwait in 1990, the Iraqi dinar replaced the Kuwaiti dinar as the currency and large quantities of banknotes were stolen by the invading forces. After liberation, the Kuwaiti dinar was restored as the country's currency and a new banknote series was introduced, allowing the previous notes, including those stolen, to be demonetized.
For a wider history surrounding currency in the region, see The History of British Currency in the Middle East.
Kuwaiti Dinar
Kuwaiti Dinar
Kuwaiti Dinar
Kuwaiti Dinar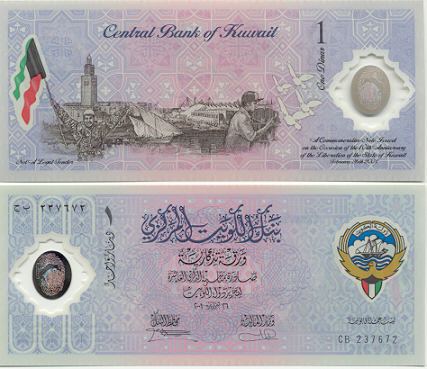 Kuwaiti Dinar
Kuwaiti Dinar
Kuwaiti Dinar
Kuwaiti Dinar
Kuwaiti Dinar
Kuwaiti Dinar